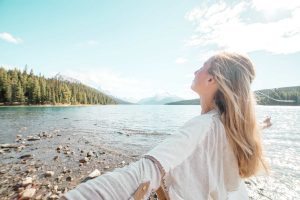 Creative visualization techniques are known to greatly increase healing of the things inside we're most afraid to face. The technique is a cognitive process where you visualize and imagine images, then consciously look at them instead of turning away, which helps you to transform the negative emotions associated with them. It might sound counter-intuitive, but results include relief from anxiety, stress, depression and can lift you up into a place where you can develop healthy self-esteem.
Demons aren't really what we're afraid that they are. Maybe you call it a toxic relationship (with yourself or with someone else), anxiety, addiction, illness, trauma. Most often, the fear of the unknown is worse than reality. Think of how many times you've overworked and overthought something your mind that never played out – probably 9 times out of 10 what you feared would happen didn't play out that way, even if it was still negative. Many people suppress painful emotions and memories, believing it will feel just as awful to relive the experience again – but the truth is, it isn't. Those of us who have done it can attest to the process being more fulfilling than we initially imagined. Sure, there is still emotion to pass through on its way out, but it's a cathartic process, not one that wounds us further. So rather than turning away in fear from that which torments us, haunts us, refuses to leave us alone, we can face the fear, the pain, the demon head-on, and finally see it for what it really is – a wound that just needs some acknowledgment and self-love in order to heal.
And so, this is how creative visualization works:
Finding the demon in your body: What is draining your energy, and where do you feel it concentrated? What color, shape, or smell does it have? Focus on intensifying these sensations.
Personifying the demon: Imagine it moving outside from your body into its own body, with its own face. Ask them what they want and need, and how will they feel once they get it?
Become the demon: Now imagine you and the demon have switched places, and notice how it feels to be in the demon's body. How does it feel to look back at yourself with the demon in your body? Ask the same questions again – what do you want and need, and how will you feel once you get it?
Feed the demon, meet the ally: Settle back into your own body, and the demon in its own. Imagine yourself turning into a colored light that feels how the demon would feel if it got what it needed. Your colored light flows over and into the demon – watch how the demon transforms, whether slowly or quickly. Now that the demon has received what it needs, does something else take its place? If so, ask if this is your ally. Most likely, you are going to see something you didn't notice before when you were consumed with fear. Ask the ally if they will help you, protect you, and how you can connect with it when you need support? Picture the ally dissolving into light, and you back into your body from the colored light.
Rest in awareness: Gradually re-awaken into your body, breathe deeply, and open your eyes. How do you feel?
Meditation is an incredible tool for self-love and healing. It restores our energy and strengthens our resiliency against anything that drains our energy or blocks us from feeling better. Understanding the demon doesn't mean allowing it to continue, if we're talking about an external situation, but we can better protect ourselves from energy vampires. Best of all, we can protect ourselves from that which we have control over – our own fears.