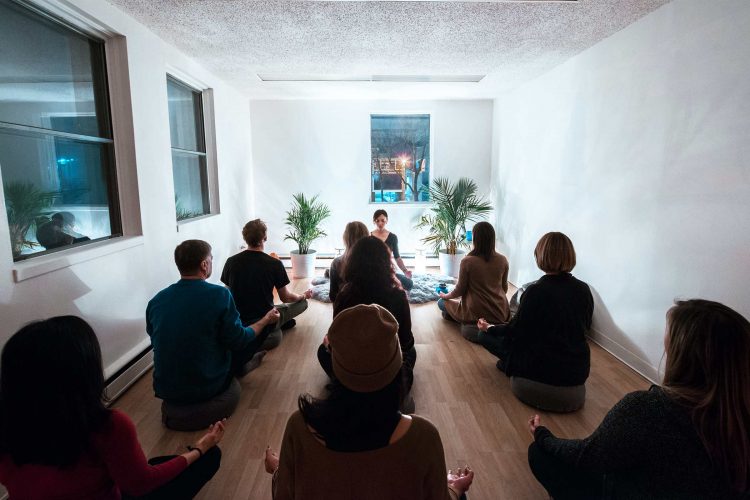 What is Modern + Mindful?
Modern + Mindful is Calgary's top mobile meditation company, offering a variety of ways to pause in today's 24/7/365 digital world.  At Modern + Mindful we are not reinventing meditation; we are simply refining how it is practiced in a modern world.
Get Smarter

It changes your brain- for the better

Be Happy

It boosts your happiness

Accomplish More

It improves your productivity

Shift in Perspective

It makes you wiser- better perspective on life
I've never meditated before- how do I start?
Simply attend one of our lunchtime classes (perfect for a beginner level) or arrange a private session at your office or home. One time may make you feel more relaxed, but do note it's when you commit to a regular meditation that your brain will start to physically change (for the better!)
I have a difficult time sitting - can I still attend a class?
Our lunchtime classes take place in a comfortable boardroom so you don't have to worry about your legs falling asleep!
I work out regularly and find it to be a very mindful experience. Would meditation still be of benefit to me?
Yes- it can help hone in your focus on a run, and help you mentally push through that last set at the gym. Plus meditation is a great daily practice you can incorporate into your life in your day to day clothes, as there is much less sweating!
Am I meditating properly?
The fact that you are sitting in silence and focusing on your breath is a great start! It will get easier over time, and our staff are always happy to chat after a class or corporate session.
Anything that you feel comfortable in.
Win a free class
subscribe to our newsletter and be entered for a chance to win free lunchtime class ! It just makes sense.