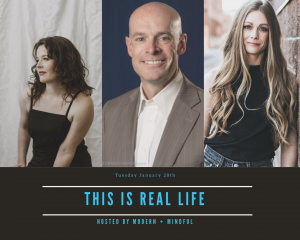 Celebrating Your Success
There are many bright and talented people who at times feel like everyone else is doing better than they are, and the internal struggle can result in a challenge to perform at your peak. Join Modern + Mindful for an engaging panel discussion, launching the series of This Is Real Life, on Tuesday January 28th as we discuss imposter syndrome, explain perfectly sound reasons why you are much more successful than you think, and hear our panelists real life stories of their internal struggles and the tools they use to succeed and thrive.
The evening will open with honest conversation over networking, as you come prepared to share 3 of your biggest successes, and 1 hurdle that you have overcome to get to where you are today. Connect openly and honestly with others, and be prepared to share from the heart.
Schedule of events-
7pm arrive- networking- 3 rounds of 5 minutes per network- connecting you with 3 new people
730pm- 845- panel discussion as each panelist takes 25 minutes to share their story
Panelists:
1. Jess LeBlanc- Founder of Embodied Adventure, Culture Creator, Yogi, Community Builder
2. Clint White- Recovering CFO turned Executive Coach
3. Natalie St. Hilaire- Owner of Yoga Nova Studio
The event will be moderated by Sarah Webb, owner of Modern + Mindful and The Calm Project.
As connection is vital to human happiness, and we want all of you to be able to further connect and share stories, we will create a document with your contact information, and any successes you wish to add and share. It is through sharing of stories that we build and grow our connection to others, and realize that in this game known as Real Life, everyone has both struggle and success.